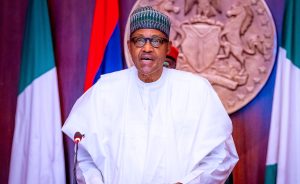 The Arewa Consultative Forum (ACF) has declared support for the directive issued by President Muhammadu Buhari for security agents to shoot those illegally carrying AK-47 guns in the country.
The ACF in a statement by its National Publicity Secretary, Emmanuel Yawe said the directive is commendable as it is expected to further curb banditary and criminal activities in the country.
It will be recalled that President Buhari had directed security operatives in the country to shoot anyone seen with AK-47.
Naija News reports that this was made known by the President's media assistant, Garba Shehu, during an interview with the BBC.
Asked what efforts are being made to rid Zamfara and other northern states of bandits, Shehu said Buhari directed a clampdown on bandits who have refused to surrender.
"The president has ordered security forces to go into the bushes and shoot whoever they see with sophisticated weapons like AK-47," he said.
"He ordered that whoever is seen with terrible weapons at all should be shot immediately."
Reacting to the President's directive, ACF said Nigeria is not at war and anyone carrying guns without licence should be reprmanded by the security operatives as directed by the President.
"Though only lawyers can interpret the legality of the President's order, that the President ordered people to be shot without trial is a legal issue.
"But we agree that there is a need for the extreme measure to curb the spread of arms like AK-47.
"Some governors are even arguing that people should be allowed to carry AK-47 and that is not right. They want the country to dissolve into anarchy. It is not right for private individuals to carry AK-47, which is known all over the world as a very dangerous assault rifle.
"Nigeria is not at war, so why should people carry AK47 freely? Even Dane guns, you need a licence to own it. In Nigeria, people just carry AK-47 freely and they kill people and nothing happens to them.
"The ACF welcomes the President's order," the ACF statement noted.
Meanwhile, former Minister of Aviation Femi Fani-Kayode has accused a yet-to-be-named person of sponsoring bandits attack in Zamfara State.
In a post on his Twitter page, the chieftain of the Peoples Democratic Party (PDP), commiserated with Governor Bello Matawalle over the latest attack in his state.
According to the former Minister of Culture and Tourism, the constant insurgent attack in Zamfara is troubling.