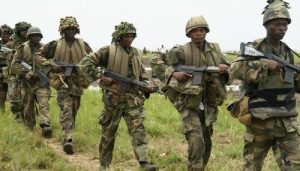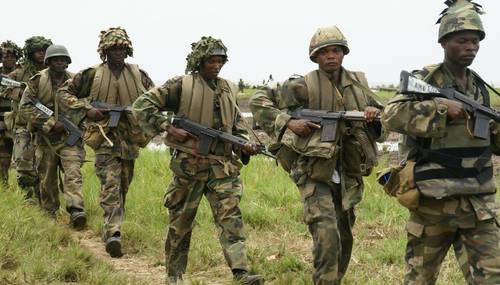 Soldiers have arrested 29-year-old Umar Muhammed for allegedly sharing false news on the killing of soldiers by Boko Haram in Borno.
The man, identified as a Civilian JTF Member at Shehuri-North in Maiduguri Metropolitan Council was said to have been arrested at his residence by security operatives.
It will be recalled an online medium had claimed a top military source told it that at least 20 soldiers in Malari, Borno State, were killed by Boko Haram/Islamic States West Province (ISWAP) terrorists.
The soldiers were reportedly on patrol to clear some Boko Haram elements in the area following credible intelligence when they were ambushed.
However, Naija News reports the Nigerian Army has denied the media report that Boko Haram/Islamic States West Province (ISWAP) terrorists killed 20 soldiers in Borno State.
In a statement on Thursday in Abuja, the Director, Army Public Relations, Brig.-Gen. Mohammed Yerima, described the report as false, fake, and baseless.
The Army spokesman noted that there was no attack where 20 soldiers were killed in the entire Theatre of Operation Lafiya Dole.
He said the report was aimed at discouraging the public and demoralizing troops on the untiring efforts in the overall fight against insurgency.
This online medium now understands that the person allegedly responsible for sharing the fake news has been arrested.
A military source told PRNigeria that Muhammed shared the fake news to create unnecessary panic in the mind of the public.
"This kind of fake news can create false impressions in the minds of many. From the suspect's post, it is clear that the idea behind it was to sabotage the good efforts of the Military," he said.
The Deputy Director, Army Public Relations, Ado Isa, in a statement about the incident, has also warned members of the public against sharing fake news in whatever form as it has negative effects on the fight against insurgency.
He said: "Contrary to the rumours making the round, nobody was attacked on Monday, as the road was cleared for the maiden visitation of the COAS, who came to see the troops of Special Army Super Camp, Ngamdu.
"No repair work was been carried out on the TCN facility, as the workers were asked not to go, because our troops who were supposed to provide them with escort, were busy preparing for the COAS visit.
"To this end, the Nigerian Army wishes to unequivocally state that the claims contained in the disjointed report on Nigerian Army troops are nothing but fake, malicious and frivolous."
Meanwhile, the Defence Headquarters (DHQ) has assured Nigerians that the new service chiefs will introduce fresh ideas in tackling insurgency and other criminal activities in the country.
This was made known during a press conference on Thursday by the Coordinator, Defence Media Operations, Defence Headquarters, Major General John Enenche.
He explained that the service chiefs have already started implementing some new ideas, adding that the welfare of troops will be given greater priority.