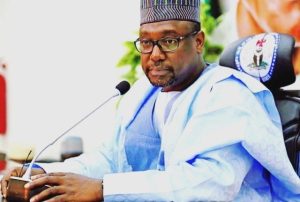 Niger State Governor, Abubakar Sani Bello has declared that his government can't be scared by the activities of bandits terrorizing the state.
This is as he launched the Niger Special Vigilante Corps (NSVC) comprising nine vigilante groups and equipped them with ten Hilux vans and 20 motorcycles to aid their operations.
He said his government won't succumb to the attempt by the bandits to make the people of the state change their way of life.
"Bandits want to force us to change our way of life in Niger state but we won't allow them.
"They stopped our children from going to school, they stopped us from travelling on our roads, they stopped farmers from going to the farm and now they are trying to stop our children from going to Islamic school, but we will not be intimidated, we will not allow that to happen we will continue to live our normal lives," Governor Bello said.
The Governor while launching the special vigilante corps at the State Police Headquarters in Minna, stated that the idea was formulated by the state government in conjunction with the state Commissioner of Police, Adamu Usman to streamline the activities of local security outfits in Niger by turning them into one special corps.
The groups that formed the special force include, Chinaka, ADC, Abidoka, WAI BRIGADE, Hunters Group, AOG, Vigilantes, Maito and Maitumbi Security Organisation.
He warned the new group to operate within the provisions of the law and remember all the contents from their two-weeks training by the police.
This article was originally published on Nigeria News