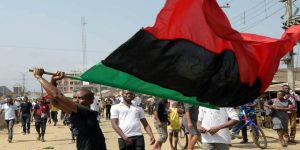 The Movement for the Actualization of the Sovereign State of Biafra (MASSOB) has described the offer of asylum by the UK government as a 'greek gift' packaged by President Muhammadu Buhari for them to dump Biafra agitation.
The group in a statement signed by its leader, Comrade Uchenna Madu alleged that President Buhari is working with the British government to distract them from the pursuit of an independent Biafra nation.
MASSOB who rejected the offer said they can't be deceived or distracted by offers of asylum from the UK government but would rather pursue their Biafra agitation to a logical conclusion.
"The government of Britain is the sole architecture of the political, economical and religious problems of the people of Biafra in Nigeria even till today," MASSOB's statement said.
"They have not shown any remorse or apologized to the people of Biafra. Britain killed, maimed and wounded our fathers, mothers and brethren through the Hausa Fulanis. MASSOB rejects their Assylum gift.
"How can the chief persecutor of the people of Biafra suddenly turn to be our pacesetter? Britain and Nigeria can no longer deceive the world again concerning the plights of the people of Biafra.
"Our unified resilience, resolutions and unshakable spirit of no surrender will continue to hunt down this geographical expression called Nigeria.
"MASSOB demands for a referendum on Biafra and not asylum," the MASSOB statement noted.
The development is coming after the Indigenous People of Biafra (IPOB) led by Nnamdi Kanu has rejected the reported plans by the UK government to offer 'persecuted' members asylum.
Kanu who spoke on Tuesday in a statement by IPOB media and publicity secretary, Emma Powerful said what IPOB needs is not asylum but a referendum that will lead to freedom from Nigeria.
The group however commended the reported move by the UK government but said it is better to get a referendum and become independent than to abandon their agitation and flee to the UK.
IPOB also accused the UK government of creating the Nigerian nation without taking into consideration the many ethnic groups it was forcefully bringing together under one nation.
Despite the rejection of the offer by both MASSOB and IPOB as well as the warning by the federal government of Nigeria that the asylum offer by the UK government will undermine the country's security, the British government has insisted that all asylum and human rights claims from Nigerian nationals will be considered on their individual merits in accordance with its international obligations.