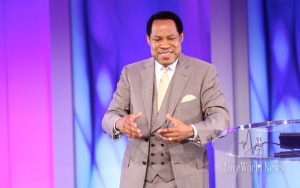 A pastor of the Love World Ministry, popularly known as Christ Embassy, Biodun Lawal, has tackled Christians and pastors who wear a facemask to protect themselves from COVID-19.
In a viral social media video, the Pastor Lawal who heads the Ghana branch of Christ Embassy said Heaven is ashamed of such people.
Lawal said, "If you still want to wear a mask, wear it but do not call yourself a man of God. He is a baby of God. We can't even call you son. You are a baby of God. Son is too high. We can't even call you child of God.
"You can frown if you like. I have seen some people wearing mask to pray inside church. Heaven is ashamed of you. Inside the house of God, you wear mask and you are praying to God?"
Nigeria's Centre for Disease Control (NCDC) on Monday has confirmed one thousand two hundred and forty-four news cases of COVID-19 disease in Nigeria.
The newly reported cases of the novel virus were recorded from 18 states of the federation, Naija News understands.
NCDC in a post on its official Twitter account on Monday night, January 11, 2021, confirmed COVID-19 death cases to have risen to 1,361 in Nigeria with a total of 80,491 people already discharged.