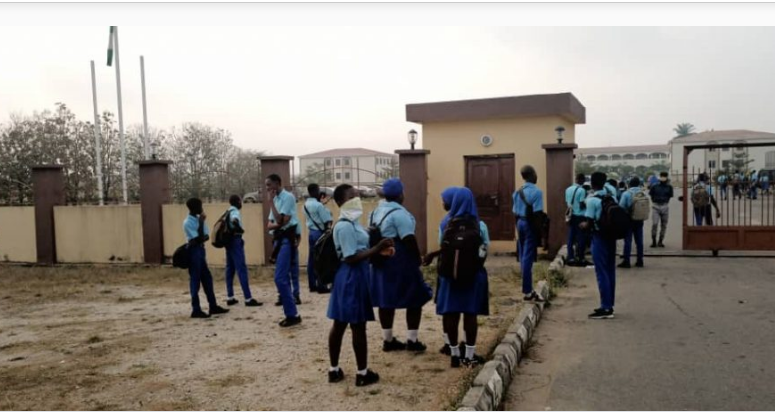 The Federal Government says no COVID-19 test will be required for returning students before been allowed into schools.
A statement by the Director Press and Public Relations, Federal Ministry of Education, Bem Goong, said parents and guardians should not worry about getting their wards tested.
Goong noted that only temperature checks should be carried out on students and any other person crossing any school gate.
He asked school authorities to refrain from asking students or parents to undergo the COVID-19 test before they are accepted into their schools.
Goong asked principals and teachers to ensure that students are subjected to COVID-19 protocols, including wearing face-masks.
Meanwhile, schools in Ilorin, Kwara State Capital, on Monday adhered to all measures put in place to curb the spread of COVID-19 in the state.
Authorities of some schools in the state decided to turn back students without their face masks.
According to Punch, few students were in attendance on the first day of resumption after the short holiday, however, few students and their teachers adhered to COVID-19 protocol.
Students at the Ilorin Grammer School without their face masks were turned back on Monday, while the school provided Soap and water at the entrance for students to wash their hands.
The Principal of the school, Toyin Abubakar, while speaking on the resumption of the students disclosed that the face mask supplied to the school by the government had been distributed before the schools were closed in December
At Baboko Community Secondary School, Ilorin, few students were in attendance on the first day of resumption.
The students on the school premises were seen cleaning and arranging some classes.
The Principal of the Senior section of the school, Kadiri Mustapha, noted that the unused classes were being arranged for the students so that they would Observe the social distance protocol.
At Queen Elizabeth School, Ilorin, a girls boarding school, some students were just resuming today, while others had resumed on Sunday.
The Principal of the school, Rachael Awolola, said that some of the students arrived at the school on Sunday while others were just coming in.
She said that the students were with their face masks distributed to them by the school management.