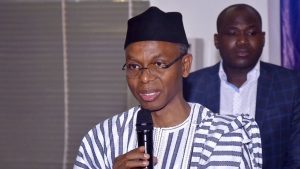 The Governor of Kaduna State, Nasir El-Rufai, on Sunday accused bandits of sponsoring Boko Haram terrorists in the North-East.
El-Rufai while speaking on Channels TV said a huge link has been created bandits attacking the North-West and the Boko Haram attacking in the North-East.
The Governor had earlier stated that his administration would not negotiate with bandits.
He said, "It has been established that the kidnapping operations (by bandits) are substantially funding Boko Haram activities in the North East."
While speaking on group funding Boko Haram said, "Boko Haram has no way of getting any money and some of them have slipped and joined the ranks of the bandits, and together they are doing this to raise a large amount of money that are being used to fund the intensified operations of Boko Haram."
He added that a branch of the Islamic State in West Africa Province (ISWAP) is assembling in the forest in Birnin Gwari Local Government of Kaduna State.
El-Rufai, however, noted that the leader of the group has been arrested and a lot of his commanders have been killed in military airstrikes.
"We insisted that these are insurgents, they are terrorists; they are fighting the sovereignty to Nigeria and we must treat them as such."
"The bulk of the money is going into terrorist financing; there is a branch of ISWAP called Ansar-Ur that is congregating in the forest in Birnin Gwari, led by a man and their objectives are very similar to Boko Haram, except that they are not against western education," he said.