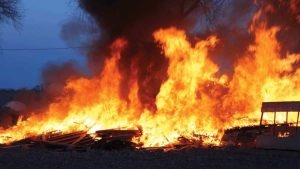 The General Manager of Adapalm Industry Nigeria Ltd in Imo State, Dr Goddy Esom Obodo, has given a contrary testimony to the blast that happened at the company not long ago.
Naija News understands that there have been speculations that no fewer than seven persons died in an explosion at the company last Thursday with scores of people severely injured.
However, in his reaction to the controversies, Obodo told newsmen on Tuesday, January 26 that only one person died in the incident.
He said is not surprised by the news making the rounds on the number of people that died in the explosion, noting that many people are fond of making a mountain out of a molehill.
"Expectedly, some people are fond of making a mountain out of a molehill. You should know that there are people who are not happy that I'm here," he said.
Confirming the incident, he said: "It is true that there was an explosion and we are still tracing the root cause of it. It is probably as a result of intense pressure in the nucleus that gave rise to the explosion.
"We are not God as to have envisaged what would happen in the next few minutes. I was even in a meeting with the deputy Governor when I received the call. I immediately rushed down to the mill to see things for myself.
"The person that died is not our staff, he was a contractor recently assigned for a job. The other four were injured and are currently receiving treatment at St. Anthony's Hospital Amafor, Ohaji/Egbema and Federal Medical Centre Owerri. They are responding to treatment.
"You see, everything is not politics. This has to do with people's lives. Let us stop playing politics with everything," he said.
Speaking with Daily Post correspondent, one of the victims who identified himself as Amuka Remigius from Agwa, thanked God for saving his life from the event that could have claimed his existence.
He said that they will soon be discharged from the hospital where they are been treated. Another victim who gave his name as Ali Effiong from Akwa-Ibom State sustained degrees of injury.
The victim urged the government to consider looking into the industry and refurbish it to avoid further occurrences.
In another news, Yoruba activist and youth leader, Chief Sunday Adeyemo popularly known as Sunday Igboho has denied owning any personal Twitter account or Facebook page.
Naija News reports that Igboho said this on Tuesday when asked by newsmen about the authenticity of a Twitter account that claims to be him and has been releasing information to members of the public on his activities.