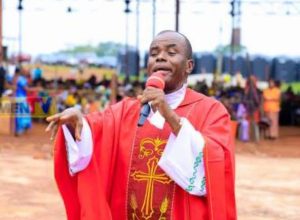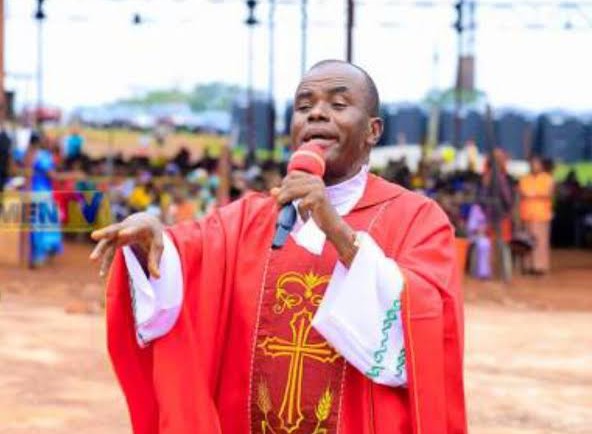 The Department of State Services (DSS) has failed to formally invite the Spiritual Director of the Adoration Ministry, Enugu, Rev. Fr. Ejike Mbaka.
Recall that DSS operatives had on Thursday, June 3, stormed the Adoration Ministry to deliver a letter of invitation to Mbaka to come to Abuja for interrogation.
Details of why the DSS summoned the priest, who they did not meet, were not stated but it might not be unconnected with Mbaka's criticism of the Muhammadu Buhari government in recent times.
Church officials had asked the operatives to return on Monday to see Father Mbaka.
It was gathered on Tuesday that Mbaka waited for the security operatives on Monday, but they did not show up.
A source in the church added on Tuesday that the priest would not visit the office of the DSS until he received a formal invitation.
A priest, who was with him on that day, told The PUNCH that Mbaka did not go out of his ministry ground, adding that he purposely waited to receive the invitation from the operatives.
"Fortunately, as of 6.30pm on Monday, we did not see anybody or letter. So as it is now, Fr Mbaka has not been served any letter of invitation from the DSS," the source added.
Asked if Mbaka would go to the Abuja office of the DSS, he said, "No, he will not go to the DSS office. Father told me that he will not go to Abuja until they bring him an invitation."
Also, reacting to the development, the Catholic Diocese of Enugu said it had yet to see the DSS letter summoning the priest.
The diocese Communications Director, Rev, Fr. Benjamin Achi, said, "The church will react if the DSS serves Fr. Mbaka the invitation letter or come to arrest him. He is our priest and it is our duty to protect him.
"He (Mbaka) waited yesterday (Monday), but he didn't see anybody."
This article was originally published on Nigeria News