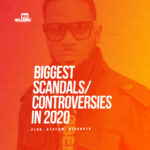 Every artiste that has garnered attention worldwide sometimes appears in the news for the wrong reasons. Some of our favorite artistes are solid proof that being in the public eye isn't all that easy and not even enormous amounts of fame and fortune can save them from being involved in some crazy controversies and drama.
This year was no different with scandals and controversies and even with the coronavirus pandemic, there was still a lot of drama in the Nigerian music scene. From domestic violence, rape allegations to sex scandals and more, here are the top music industry scandals that rocked 2020.  
Naira Marley & The Funke Akindele Scandal 
Since he rose to prominence, Naira Marley has always been involved in one scandal or the other, and 2020 was no different. The singer made the headlines when he attended a party organized by actress Funke Akindele Bello to celebrate her husband's 43rd birthday.
However, this was done in the midst of the coronavirus which had just been declared a pandemic. The guests who attended exceeded the number of persons stated by the government to be at a gathering. Videos of the party capturing  Naira Marley and other prominent figures surfaced online.
Nigerians reacted and called for the immediate arrest of the actress and her husband. She later apologized over the incident, saying most of those who attended the party were colleagues who were living temporarily within the estate and could not return to their home states because of the lockdown caused by the COVID-19 pandemic.
Due to the order by the Lagos Infection Diseases Regulations 2020 (the Regulations) which prescribes a jail term of one month or N100,000 fine or both for persons found guilty of hosting gatherings or flouting the lockdown order, the Nigerian Police Force swung into action and arrested the actress. The "Soapy" singer was arrested, tried in court, and later pardoned by the Lagos State government. 
Peruzzi
If we are to give awards for the artiste involved in the most scandals this year, It would be Peruzzi. The singer's name was plastered all over the news for all the wrong reasons. The "Majesty" singer was accused of rape, assault, and theft by a Uk based singer identified as Daffy Blanco. 
According to the lawyer turned singer, she was in dire need of a songwriter to give her hit songs. Peruzzi was recommended by the CEO of a prominent bank and she met up with him to discuss their contract. She eventually made a payment of 10million for him to commence work immediately.
However, things got out of hand when Peruzzi followed her back to her hotel. Upon seeing him, she felt he had followed her to start work immediately but he had other intentions. Peruzzi almost raped her and she had to fight him off but ended up getting a scar. Daffy also revealed that he called her to apologize for his actions and tried to settle things with the DMW lawyer (bobo) but he still wasn't able to deliver her songs.
As if that wasn't enough, his former label boss, King Patrick had charged him and Davido to court over breach of contract and revealed that Davido brought majority of Peruzzi's songs. He also claimed that Peruzzi had served as a procurer for Chioma in the past before introducing her to Davido. These allegations shattered the internet and Peruzzi debunked his claims explaining that they were all lies.
The matter died down only for his name to get dragged in the mud again over rape. Social media had been awash with several rape victims coming out to share their #metoo stories. In a series of tweets, a young lady identified as Princess narrated how the singer raped her in 2012. According to her, she accompanied a friend named Aisha who seems to be romantically involved with him at that time to his house. She said they spent the night at his place but Peruzzi came to her and had his way with her even when she refused.
Princess said she was too naive at that time to go for a test and couldn't speak out because she was scared and her parents weren't aware that she was in Lagos where it had happened. Bareilly 24 hours later, a series of tweets between 2011 and 2012 that seemed to advocate rape surfaced.
The singer frantically rushed to delete the tweets but they had already gone viral and you know what they say about the internet; it always remembers. Peruzzi then broke his silence with a statement standing on his ground that he is not a rapist and would never be one.
D'Banj
Just like Peruzzi, D'Banj's woes started when the number of rape and murder cases in the country experienced a rise. The singer in reaction had taken to his social media pages to share a few words on the matter. This irked talent manager, Benjamin Ese who shared how D'Banj raped his friend after she rejected his advances. Benjamin wondered how the singer was able to share such a message when he is guilty of what he preaches against.  
According to him, D'banj had offered his friend N200K to sleep with him after sighting her at an event but she refused. He then sneaked into her room, had his way with her, and left her depressed to the extent that she was going to commit suicide. D'banj who had just celebrated his 40th birthday debunked the claims.
The lady identified Seyitan Babatayo was then reportedly arrested, pressured, and intimidated by the police on the orders of D'Banj. There were reports that Seyitan was made to sleep in prison and treated like a criminal without a chance to fight for her rights. A series of events happened and the two parties were said to have settled amicably. 
Davido
Davido is a regular when it comes to scandals and this year it was not about his music but his love life. There was a lot of speculation about his relationship with Chioma. The singer was said to have welcomed a baby with another woman and beat up Chioma to the extent that she left the house.
In reaction to this, the celebrity chef via her Instagram page insisted that there has never been any form of violence in their home. Following this revelation, Davido unfollowed her and did not even spare his crew members, Nicki Minaj, Chris Brown, Christiano Ronaldo other prominent figures. However, upon his return to social media, Davido assured everyone that all was well with them. 
Lil Frosh 
Fast-rising Davido Music worldwide singer, Lil Frosh made the headlines after he was accused of beating up his girlfriend. His accuser who identified as her brother and manager called out the singer for regularly beating up his girlfriend. He narrated what has been a regular occurrence between the singer and his sister and also added some pictures of her battered face to back up his claims. According to him, the singer and his sister have been in a relationship for about a year now and the relationship has taken a great toll on her. 
His girlfriend, thecutegemini further revealed that he would beat her up, videotape, and threatened to kill her. Following these allegations, his record label terminated his contract explaining that necessary investigations had been carried out and there was no other choice but to take such action.
Lil Frosh reacted to the allegations stating that he was innocent and would never do anything to hurt her. He likened her swollen face to that of a dye allergy and shared a screenshot of their conversations to back up his claims. Things are still a bit hot at the moment as it seems both parties are yet to settle out their differences. 
Cynthia Morgan, May D Vs P Square & Jude Okoye
Cynthia Morgan broke the internet after making explosive revelations about her former record label boss, Jude Okoye. In an Instagram live session. Cynthia who had been off the music scene for a couple of reasons called out Jude for ruining her career and failing to give her what he owes her.
According to her, Jude owes her a lot of money and needs to pay up because she is suffering. He stopped her from using her name after she left the record label, locked her out of her VEVO & Instagram account, and also stopped her from getting royalties. However, Jude Okoye fired back revealing that she owes him over 40 million Naira which he never recovered, and even went as far as buying a piece of land for her mother and a brand new range rover. 
In a bid to refute her claims, Joy Tongo, who happens to be her former manager,  released a copy of the contract she signed when she was still in the record label.  In the contract which was a 360 deal, funds generated from her music were to be split 50/50. Cynthia was heavily criticized for being greedy and in response, she revealed that she was moving on and starting afresh with a new name. During this saga, May D shared more light on how his relationship with Jude Okoye and P-Square ended on bad terms. 
During an Instagram live session, May D revealed never heard before details about their deal. According to him, after his songs blew up, Jude Okoye immediately wanted to sign a contract but was against the move because they had just lost their mom. May D said he wanted them to bury their mom before they go ahead with the deal.
However, they were adamant and wanted him to sign the contract immediately. May D said their initial agreement was for him to blow up using their platform and move on afterward. The singer said they never believed in him and wanted him in their label after seeing his success.
In another interview with Tooxclusive, he revealed was never greedy while he was with them. He said it took him 10 years to finally share his story not because he was bitter but because people needed to know the truth. May D spoke about how his relationship with Jude affected his brand after he left the label as people kept on referring to how he stole money from them.
He added that the Hummer (car) they gave was for him to run errands and two weeks later, they collected the key from him. The singer also said that he didn't open an account because it was never about the money for him but for making it big. While speaking on how he lived in their boy's quarters, May D said he never complained about it and was content with what they gave him. The singer said he never complained whenever they cheated him after collecting money for shows. 
Rudeboy responded saying that it was only people whose careers had failed that blamed Jude as a scapegoat. He added that people who stubbornly believe that they know it all and that they can do it by themselves often fail. Jude on the other hand continued to shade Cynthia on social media.
9ice
No one expected this but it came out anyway. But really, what's a list like this without a sex scandal? Boring! Sensational indigenous singer, 9ice was caught up in a nasty cheating scandal after a video of him fondling the breasts of a mystery woman surfaced online. 9ice who has 5 children from 3 different women, got married to his wife, Olasunkanmi Ajala in December 2019. However, in a video that went viral immediately, the singer was seen having a sweet time with a mystery lady who was later identified as Tiwa. 
The singer in the video revealed that the lady is his "wife" and warned guys to stay away from her. Sources say the video was taken recently and that the two have been seeing each other for quite some time. Shortly after the video was released, his nudes showing his male member came up. 
9ice then took to social media to plead for mercy. He described his actions as shameful and terrible which has cost him his family. He apologized for his wrongdoings and pleaded with fans to help beg his wife because she is his backbone. Now we can't say if they made up or not, all we know is that things are quiet from their own end.
Burna Boy 
Love birds, Burna Boy and Stefflon Don shattered the internet after they sparked break up rumors. The couple started dating in 2019 and since then they have never shied away from sharing bits of their romantic journey. Earlier this year, the "Twice As Tall" singer unfollowed everyone on his Instagram page except Steff. However, both singers unfollowed each other on the social media platform and both singers did not address these rumors. Months later, a lady identified as Jo Pearl accused Burna Boy of infidelity.
According to her, she had been dating Burna for two years and this was before he started dating Stefflon Don. She further revealed that it was Burna Boy who sent her a message on Instagram about two years ago. Peal said he took her two weeks to reply because she was reluctant at first before her friends persuaded her. She did it unwillingly, and they started talking. Burna Boy invited her for his show in the UK which was the first time they met.

Pearl came out to slam Stefflon Don for begging for receipts of her affair with Burna Boy. All these happened and Burna Boy still did not address the situation.  
Davido Vs Burna Boy
The Davido Vs Burna Boy squabble has been an entertaining one and it seems it would remain so for a long long time. In March, Burna Boy had announced that his next album "Twice As Tall" would come in July, and in May, Davido also suggested his "A Better Time" album would come in July too. Burna Boy's response was all fans needed to know that something wasn't quite right."July will be very funny and I shall laugh accordingly."
Davido then shared a photoshopped photo of himself and Wizkid looking like herbalists and captioned it  "The 2 greatest of all time. No cap". In what looked like a shade to the singer, Burna Boy wrote: "You cannot play football. Everybody knows you cannot play football and you are an embarrassment to the team. But your daddy bought the football team."
Burna Boy released the Grammy-nominated "Twice As Tall" later in August and Davido released "FEM" which was believed to be a shade at the singer. The lyrics "Tell Odogwu say we like to party" did not help matters as "Odogwu" and "Like To Party" are tracks from Burna Boy. Just before the release of his "A Better Time," Burna Boy tweeted "Floppy" disk and this was again believed to be another shade at Davido. Well, the rest is history….
Clarence Peters 
During the lockdown which was put in place due to the coronavirus, Clarence Peters in his Lagos home experienced the death of a popular video vixen, Love Divine popularly known as Kodak. Kodak was said to have died while charging her phone during a video shoot at his house. 
Clarence who was physically present when it all happened said she was electrocuted while charging her phone and people who were with her immediately called his attention to what had happened. He further revealed that they immediately rushed her to the nearest hospital but they were unable to gain entry because they thought she was a COVID-19 patient. They were eventually able to get her to a third hospital but she was pronounced dead.
However, there were speculations that the dancer did not die from electrocution and that she might have been murdered. The spokesperson of the Lagos state police command Bala Elkana later confirmed that Clarence was detained and questioned as the police were investigating for murder. He was later granted administrative bail and since then nothing much has been heard about the case.
The Biggest Music Entertainment Scandals/Controversies In 2020
The post Here Are The Biggest 2020 Scandals/Controversies That Rocked The Music Industry appeared first on tooXclusive.