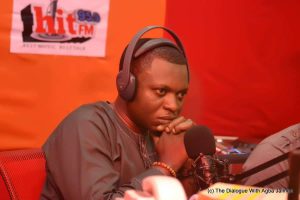 A Human Rights group, Citizens' Solution Network has demanded the released of activist, Agba Jalingo.
Naija News had reported earlier that Jalingo was arrested by operatives of the Nigeria Police Force over an alleged petition.
CSN, however, in a statement issued a few moments ago described the charges against Jalingo as false and completely unworthy to be mentioned.
"We recognise the emptiness of the fake charge read against Citizen Agba Jalingo and the nonexistent and ghost group known as Concerned Cross-Riverians that wrote the petition upon which the State Criminal Investigation Department of Cross River Police Command presumes to act on," CSN wrote in the statement.
It further described the arrest of the citizen as worrisome considering the fact that those who brought the fake charge against him are faceless and can be dismissed as nonexistent.
"We consider the arrest of Citizen Agba Jalingo by the State CID in Cross River as an abuse of the Nigeria Police Force and gross misuse of police intelligence, resources and taxpayers' money, considering the fact that those who were said to have brought the poorly scripted and unsigned petition against him were not only faceless, but nameless.
On the basis of the facelessness of the petitioners, CSN condemn Jalingo's arrest in the strongest terms and demand the immediate and unconditional release of the activist, who according to them remains innocent until proven otherwise in a Court of Competent Jurisprudence.
The statement continued: "Let it be on public registry that, this abuse of power by the Nigeria Police Force to prevent Citizen Agba Jalingo from leading a protest, which is within his constitutional power is unethical, amoral and places the Nigeria Police Force in bad light, especially at a time where there is social and public trust deficit.
The State Criminal Investigation Department of Cross River Police Command should as a matter of professional ethics and the Doctrine of Petitioners' Facelessness free Citizen Agba Jalingo now.
This article was originally published on Nigeria News