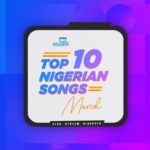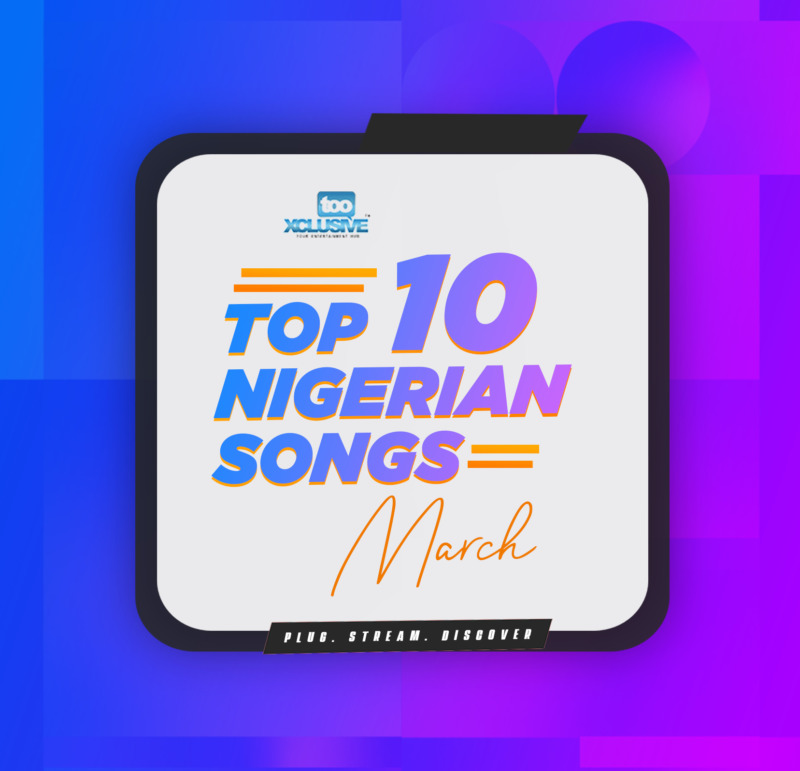 Music is the key to a man's soul…
Officially Welcome to the Month of April….. While we wait for new banging tunes to start dropping, we should look back at some of the tunes that created a big buzz and we couldn't help but listen and fall in love with them. Below is a sampling of songs that effortlessly bopped and were equally unforgettable. There is much more than this, but these are the Top 10 Nigerian Songs that really hit us hard in the Month of March.
Hot March Madness!!!
Top 1o Nigerian Songs For March
1. Teni – "For You" ft Davido
Teni has been bringing a unique flavor to the music scene since her debut in 2016. She has never failed to deliver amazing and addictive songs. Have you listened to her Wondaland Album? You'll confirm that Teni has no bad songs. To spice things up, she collaborated with Davido to drop one of the dopest tunes of March, For you. For you is a song that tells a sad, yet comical love story of a couple.  With Teni's powerful vocals and Davido giving the song the OBO's touch, For you have been gaining millions of streams since its release.
2. Rema – "Bounce"
Another Banger!  You know it's a smashing hit when the Prince of Afrobeats, Rema is involved.  In March, Rema dropped one of the hottest tunes of all time. He bounced back with an addictive jam that will have you hitting the repeat button over and over again.  Bounce is an uptempo song with Rema's signature catchy lyrics. The key element of Bounce was the beats. The beats, ooohh the beats sounded like something out of this world. The beats were mad, catchy, groovy, and tense. At first, I doubted if  Don Jazzy had used jazz to craft out the beats for the song, but after music lovers testified to vibing to the song cos' of its beats, I was convinced.  Bounce is a song that talks about the luscious and magnificent body of an African woman. It was produced by Don Jazzy (Na who do the beat?- Jazzy)
3. Ckay – "Felony"
Ckay returned with another smashing song, Felony.  The soft-sounding R&B singer made an impression in the music industry with his bopping Love Nwantiti Remix. In Felony, Ckay shines through with his sultry vocals as he expresses his eagerness to do anything for his lover. This track is soft, a typical mix of Afropop and R&B. Its pace was mid-tempo giving off a serene vibe. With Ckay's signature hums and adlibs, Felony turned out to be very addictive. This love song was Produced by Auxxie, and it's off  Ckay's Ep, "Boyfriend". 
4. Joeboy – "Focus"
Joeboy is best known for his soft, sweet, not in a sickly way romantic songs. Since his debut, Joeboy hasn't failed to deliver banging tunes. This time he crafted out another tune off his "Somewhere between Beauty and Magic Album", titled Focus. Focus is a mid-tempo love song with an amazing combination of  Afropop and Joeboy's signature R&B. In his Afropop-R&B Fusion, Focus, Joeboy perfectly expresses his lover's lack of attention and difficult it to get to her. This serene tune was produced by MOG.
5. Zinoleesky – "Kilofeshe Remix" ft. Mayorkun, Busiswa
Another Song that buzzed in the month of March is Kilofeshe. The show killer Zinoleesky returned with a hotter, well-seasoned remix of his 2020 hit song, Kilofesehe.  This time he was fully prepared to do extraordinary things by featuring South African Rapper, Busiswa and the Mayor of Lagos, Mayorkun. The remix was full of vibes, its beats were still on track and the singer flowed fluidly in Yoruba and English.  When it came to the song delivery Mayorkun finished his verse with pure, undiluted vibes and Busiswa didn't disappoint to deliver the maddest and coolest rap lines on the track. Kilofeshe was produced By Timmy Jay.
6. Chike – "Running to You" ft. Simi
Just like Teni, Chike has introduced the world to his unique style and sound. It's amazing how he can paint a picture with his songs. This time he teamed up with the vocal prowess, Simi for a refix of his single, Running to You. This duet gives off a serene Afropop vibe.  With Simi's silky voice, she added the feminine touch the love song needed along. Running to You tells a romantic yet sad story of two lovers.  This tune was produced by Deeyassobeatz.
7. Naira Marley – "Coming"
Some songs are better listened to than explained. While fans might not openly indulge in the excitement of Naira Marley's new s*x song, Coming, the track magically is the one number on all music platforms. Hmmm… Marlian President cooked up a sizzling song with south African-based rapper, Busiswa. The beats of the song were banging, it had the signature Zanku sound to it. The lyrics of the song on the other hand were sensual, erotic, porn-related and it came as no surprise when NBC banned the song due to its vulgar words. The song was produced by  Marlian hit maker, Rexxie.
8. Lyta – "Are You Sure" ft. Zinoleesky, Emo Grae and Naira Marley
Marlian Music blessed us with this brand new music – Are You Sure by one of her signee, Lyta. For this track that took over music lovers playlist and Airplay, Lyta employed the services of Zinoleesky, Emo Grae and Naira Marley. The song is a love record that asks for Clarifications of a love interest.
9. Ajebo Hustlers – "Pronto" ft. Omah Lay
It is safe to say that Ajebo Hustlers Duo; knowledge and Piego and Omah lay literally killed the song.  Of all Omah Lay's Features, Pronto happens to be the best.  Omah lay with his soft, sultry vocals almost deviated attention from Knowledge who delivered fire rap lines, and Piego who flowed smoothly in Pidgin and PH slangs. This track is highly infectious, its backbeat is intoxicating and its lyrics were unforgettable.  Pronto is filled with sexual innuendos, but it didn't stop this 'work of art' from having over a million streams since its release. 
10. Ice Prince – "Kolo" ft. Oxlade
The rap sensation teamed up with fast-rising afrobeats artist, Oxlade for a unique flavor to his song, "Ko lo."  Ice Prince was nothing short of outstanding on this track, he delivered banging and catchy rap lines. For Oxlade, with his soft, sultry vocals, he gave the song the right amount of R&B it needed. Ko lo is a love dedication to the singer's woman who sang about her driving him crazy. Ko lo is highly infectious, its backbeat is intoxicating and the lyrics are unforgettable. This tune was produced by TBD.
Notable Mentions
The two songs below are not Nigerian songs, hence the reason why they are not on the list above, but are both worthy of a mention b'cos their heavy buzz. If they were originally owned by a Nigerian the songs would definitely be on the Top 10 Nigerian Songs list we served.
We mentioning these two records below because the powerful impact of our artistes on the Remixes and secondly they are receiving massive airplays, disturbing viewers timeline & screens And also bursting speakers.
Focalistic – "Ke Star Remix" ft. Davido
Award-winning South African artiste, Focalistic teamed up with Afrobeats Megastar, Davido for the remix of his smashing single Ke Star. Ke Star is one track that gained Focalistic the massive recognition he is enjoying. this highly infectious tune is still trending and earning millions of streams months after it was released. To be honest, you can't listen to Ke Star and not move your body. With Focalistic dwelling on the amapaino sound and Davido delivering an enthralling afrobeat verse, it's no wonder Ke Star remix has been a trending hit.  Local or Global, ke Star is one of the hottest songs of March. It was produced by Vigro Deep.
Forever- Gyakie ft Omah Lay
Gyakie is not backing down with her love anthem, "Forever". Recall how the R&B love track swept through social media and couples literally sucked the life out of the tune on tik tok. Well, the Ghanian songstress is back and she decided to spice things up by featuring our best Ashawo singer, Omah Lay. Omah lay can confidently make any song bop. But if you are not convinced, his sizzling contribution to Pronto will surely do the trick.  The video of "Forever" Remix has over two million views and it was just released a few days ago. Forever is a mid-tempo, smoothing, yet addictive love song produced by Kros.
Hot Nigerian Songs of March
The post March Madness! Top 10 Hot Nigerian Songs appeared first on tooXclusive.