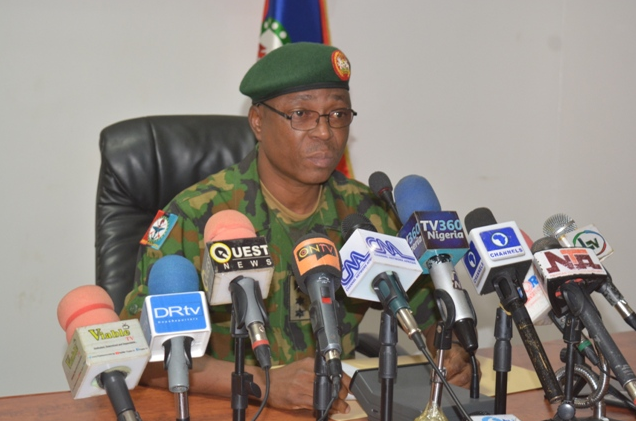 The Defence Headquarters (DHQ) has denied media reports that its troops killed about 70 residents of Konshisha community in Benue State.
There were reports on social media that the military had allegedly killed about 70 residents of the community during a military operation.
The reports come hours after the military said 11 soldiers were killed following an attack by suspected gunmen in the area earlier in the week.
But in a statement on Friday, DHQ Spokesperson, Onyema Nwachukwu, said that there was never a massacre as being touted by some mischief-makers, adding that Nigerian soldiers did not kill any civilian during the reinforcement of troops to the area.
He noted that troops who were reinforced to the community only killed suspected bandits who were occupying houses deserted by the villagers.
He said such houses were burnt by the troops, adding that using villagers' houses for hideouts was one of the tactics of the bandits to draw negative comments on the military.
The military spokesman added that it will be wrong to blame soldiers who are in Konshisha on legitimate duties when some of them were murdered in cold blood.
Nwachukwu said some of the recent photos of razed buildings were of those burnt during earlier communal clashes between Konshisha and Oju.
He said the bandits should be blamed for the destruction, since they used the settlements as hideouts.
The statement reads: "The Defence Headquarters wishes to put it on record that apart from these initial 10 bandits, there are no other civilian casualties recorded in any part of Konshisha till date.
"We, therefore, challenge anybody from Konshisha to present to the public the 200, 70 or 30 dead bodies of innocent persons, male, female, or children killed by troops in Konshisha. There was never a massacre as being touted by some mischief-makers.
"The remnants of the armed bandits that escaped from Bonta withdrew into neighbouring villages where they kept on attacking troops as they continued with the search operation through Bonta into other parts of Konshisha.
"Knowing the implications of killing troops in cold blood, most of the villagers fled their homes which were then occupied by armed bandits who kept firing at troops from the settlements as they advanced into Konshisha.
"Troops repelled the attacks and destroyed the houses and other buildings which the criminals used as hideout for the attacks.
"The use of abandoned settlements by armed bandits to attack troops is popular with insurgents. The aim is to draw military fire into the dwellings and then turn round to blame soldiers for the destruction. This is common guerilla tactics armed bandits designed to whip up public sentiment against security forces and this is what played out in Konshisha.
"This accounts for some of the burnt houses being reported in the press."