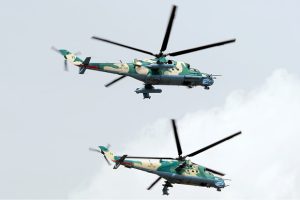 The youth arm of the apex Igbo socio-cultural organization, Ohanaeze Youth Council (OYC) has denied reports that the military killed residents in Orlu, Imo State through helicopter attacks.
The group in a statement on Thursday by its national president, Comrade Igboayaka O Igboayaka said truly there was a heavy military presence in the area, inhabitants of Orlu were not killed.
It added that what happened was a routine check by the army to dislodge criminals who might be hiding in the area.
It will be recalled that operatives of the Nigerian Air Force reportedly bombarded some communities in Orlu, Imo State, believed to be harbouring members of the Eastern Security Network (ESN), operated by IPOB.
It was gathered that the strike started on Thursday morning worsening the already built-up tension in the areas.
A video of the aerial bombardments on Thursday surfaced with fresh tension and anxiety building in the communities.
However, the Ohanaeze Youth Council (OYC) said the military jets were only sighted hovering around the bush but no bombardment or killing took place.
It said media reports suggesting killings in Orlu by the military jets should be disregarded as fake news.
The statement signed by Chukwuemeka Chimerue, Special Assistant on Media and Publicity to OYC National President reads: "The youth body of the apex Igbo socio-cultural organization, Ohanaeze Youth Council (OYC) ably led by Comrade Igboayaka O Igboayaka as the national President, can authoritatively confirm, that contrary to viral media reports that the military deployed their jets and other hardware for an aerial bombardment in Orlu, there was no such incident today in the Imo state town.
Although military jets were sighted hovering round the bush, media reports of a military bombardment and killing of inhabitants in Orlu town were entirely false and misleading. The public should disregard such reports and not take it seriously.
There is no cause for alarm in Orlu as the city remained calm and the people going about their legitimate activities without any interruption or violence.
What has been Happening in Orlu since three days, OYC can confirm, was merely a routine check by the army who combed the bushes in the area to ensure it was crime-free and devoid of armed criminal gangs who may be hanging around to foment trouble or cause disorder.
It has been observed that certain groups are always fond of spreading falsehood, propaganda, and sensationalized materials on social media with the wrong motive to raise false alarm and create an impression of what is not actually real. Ohanaeze Youth Council(OYC) hereby advises such groups and individuals to desist henceforth from exploiting the emotions and sensibilities of the people for their own selfish gains.
Ohanaeze Youth Council(OYC) henceforth, will not tolerate any group spreading rumours, falsehood, or unverified claims in order to create tension or disaffection among the people on social media. To be forewarned is to be forearmed.
Meanwhile, the Niger State Governor, Abubakar Sani Bello has debunked trending rumours that the abducted staff and students of Government Science College, Kagara have been released.
The Governor spoke on Friday shortly after meeting with the renowned Islamic scholar, Sheikh Ahmad Gumi at the government house in Minna, the state capital.
He emphasized that everything that is been said about their release is nothing but rumours, adding that government can't work with rumours.
He promised that when the abductees are released, the information will be made public but for now, negotiations and consultations to secure their release is ongoing.