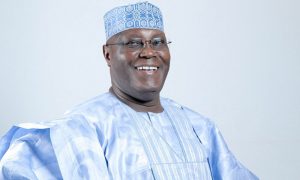 The Presidential candidate of the Peoples Democratic Party in the 2019 general elections, Atiku Abubakar, on Thursday said strong institutions are vital to sustaining democracy.
The former Vice President stated this while reacting to the certification of the electoral victory of United States President-elect Joe Biden by the US Congress.
Recall that supporters of President Donald Trump invaded Capitol in Washington on Wednesday during a joint session of Congress held to certify Biden's win.
The Congress was, however, reconvened after the riot and Biden's Electoral College victory over Trump was affirmed.
United state of America Vice President, Mike Pence,  presided over the sitting and announced the certification despite pressure from Trump for him to do otherwise.
Pence said, "The announcement of the state of the vote by the President of the Senate shall be deemed a sufficient declaration of the persons elected President and Vice President of the United States, each for the term beginning on the 20th day of January 2021 and shall be entered together with the list of the votes on the journals of the Senate and the House of Representatives."
Reacting, Atiku tweeted, "Democracy, as it is often said, is a process. With the culmination of the process certifying the electoral vote of @JoeBiden as the next President of the United States, it is clear that strong institutions are vital to the sustainability of democracy."
"This is a lesson to be learnt: that strong institutions and not strong personalities are the bulwark of a rich democratic culture."