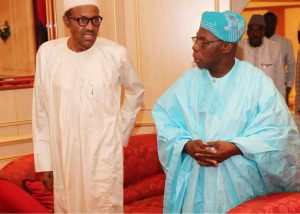 Former Osun State Governor, Prince Olagunsoye Oyinlola, has revealed why former President Olusegun Obasanjo backed the presidential ambition of President Muhammadu Buhari in 2015.
Speaking in an interview with The Punch, Oyinlola stated that Obasanjo, after much pressure, agreed to support Buhari because he was disappointed in the administration of Goodluck Jonathan.
The former Governor, a former military administrator of Lagos, stated that even when Obasanjo was convinced that Buhari would not deliver, he still threw his weight behind him.
He said: "The last person to accept Buhari's candidature was Obasanjo and I say that one with every emphasis because I was involved. Yes, Baba (Obasanjo) had fallen out with Jonathan. His projection then was 'any option but Jonathan'. That was his stand.
"Taking a look at those candidates from other parties, there was no other person we felt could handle the delicate governance of Nigeria better than Buhari, among the contenders that time. That was why the choice of Buhari became the order.
"That, coupled with the fact that he had been at the helm of affairs in the country before under the military, so he has that edge over all others. But Baba (Obasanjo) was the last to subscribe to the idea.
"I can tell you that it took a team of Saraki, Amosun, Bola Tinubu, Kashim, Imam and myself, that went and bombarded Baba (Obasanjo) at Ota, around 7 a.m., before he succumbed to our pressure."
"That day, he said Buhari that he knew would try in the area of military matters, but outside that, Buhari knows next to nothing; not economy, not foreign affairs and he has been proven right," he added.