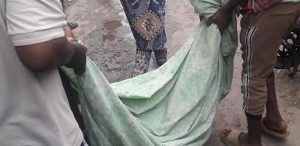 The cause of death for 25-year-old Jumoke Oyeleke, who was hit by a stray bullet during the Yoruba Nation rally in Lagos, has been revealed.
The young girl's cause of death was revealed in an autopsy report obtained by SaharaReporters.
According to the autopsy signed by Dr SS Soyemi of the Lagos State University Teaching Hospital, Ikeja, Jumoke's death was caused by "Haemopericardium, disruption of the heart and lungs and missile injury to the chest."
Hemopericardium refers to blood in the pericardial sac of the heart. It is clinically similar to a pericardial effusion, and, depending on the volume and rapidity with which it develops, may cause cardiac tamponade.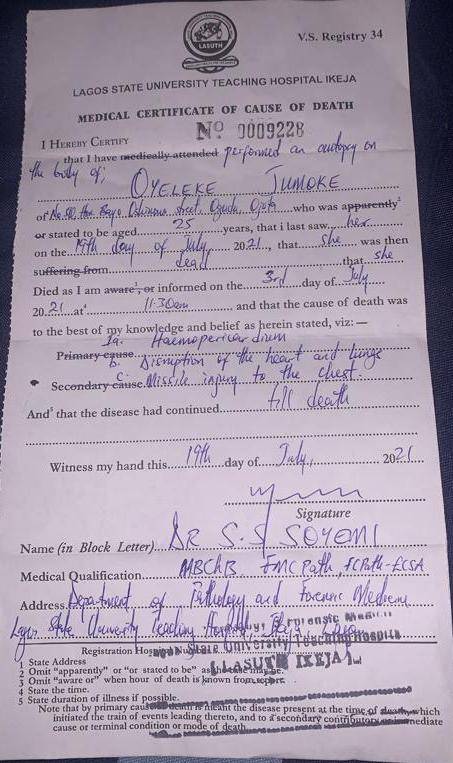 Naija News recalls that security operatives while dispersing Yoruba Nation agitators at Ojota reportedly killed the yoghurt seller.
She was reportedly displaying drinks at a shop when a stray bullet hit her and severed her stomach. Her body was covered with a piece of cloth as a crowd gathered at the spot.
In a swift response, the Lagos State Command of the Nigeria Police Force denied responsibility for the death of the 25-year-old female hawker.
The Police in a reaction after the news of the girl's death went viral said its operatives present at the scene of the planned rally didn't fire any live bullet.
According to the police, the corpse has been discovered not to be fresh after investigations.
The police added that the girl might have died from wounds sustained from a sharp object injury.
But the Lagos state government, not satisfied with the police statement, ordered an investigation into the death of the young girl.
This article was originally published on Nigeria News